About South Creek Ltd.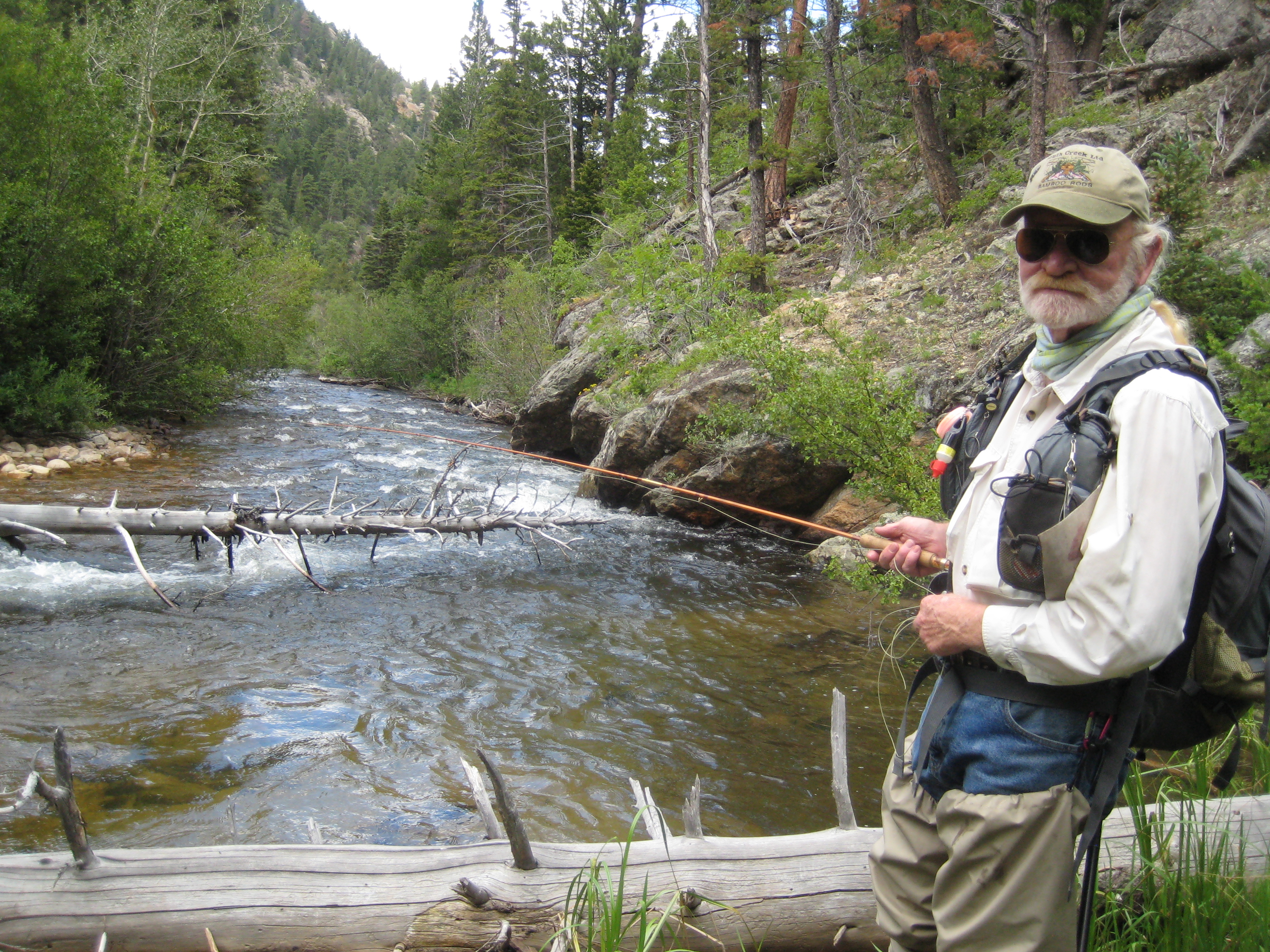 I have been making traditional, six-sided, split bamboo fly fishing rods since 1979. I began in a garage heated by a wood stove here in northern Colorado, doing things the hard way: making my blanks slowly, one at a time, by hand, using steel forms and block planes. I still work this way. There are faster ways to turn out rod blanks, but there is no substitute for a genuine, handmade fly rod.
All the sections of my rods come from the same culm of bamboo, aged for three to four years in my shop, to insure uniformity of action, as well as color. I use a spiral node pattern on most of my rods but go to a 3 x 3 pattern for longer, heavier rods. The rod tips are matched, or "mirrored" -that is, both tips have identical node patterns.
As I have been developing my own tapers since 1979, I choose not to offer taper replications of bamboo rod makers, past or present. However, I will modify my tapers to suit your casting style.
Of course, time is a factor. There are more than 1400 separate operations and inspections that go into the making of each rod, all of which are done here in my shop. Since each rod is going to end up on a river or lake somewhere with my name on it, I don't hurry or cut corners.
Over the years I've examined different ways to increase my production, but there's just no way to make rods faster and maintain quality. Experience has shown that a customer's satisfaction with his or her fly rod is more important than quick delivery. If anything goes wrong during the building of a rod, I destroy it and start again. Please contact me for current lead time.
I make one-, two-, and three-piece hexagon fly rods from 2 to 7 weight lines. The rods are finished with the best quality, hand polished spar varnish and all the hardware is nickel silver.
The style of hardware, the colors of silk thread, and style of wraps are chosen by the customer. Special aesthetic requests are negotiable.
Two- and three-piece rods come with an extra tip and all rods come in a cloth bag and a black anodized aluminum tube with solid brass fittings and South Creek Ltd. label. The South Creek Ltd. logo is engraved on all reel seats. All rods are adorned with an agate stripping guide, snake style line guides suitable for use with modern plastic or classic silk fly lines, and ferrule plugs. Hook keepers are available upon request.
Because no two rods are exactly the same, I get personally involved in each one with the customer. I need to know where and how you intend to fish the rod, what kind of fish you'll pursue, and your overall expectations from a custom bamboo fly rod. I build rods that are meant to be fished. Once a rod is delivered, I like to hear how it is performing under your fishing conditions.
As I build primarily custom rods, you will notice that no prices are listed and that you cannot place an Order for a rod directly from this site. A Catalog is available by phone or email request.
Some additional fine print you need to be aware of before placing a rod order: Clients may not order more than two rods per year. Payment in full is due upon completion of the rod. I do not offer payment plans.
Due to lengthy lead times I will contact you prior to splitting the bamboo for your Order to finalize your specifications. Should your contact information change while your rod Order is pending, please be sure to update me.
I welcome you to visit my shop Monday through Saturday. However, I encourage you to schedule an appointment for casting, discussing custom rod specifications, rod appraisals, and rod repairs.
Please keep in mind that I may be more difficult to contact during the peak of dry fly season!
- Michael D. Clark