New Items are being added daily for Rebuild Lyons One Life at a Time
South Creek is proud to take part in the sale of donated items with all sale proceeds going directly to the Lyons Community Foundation/Flood Relief here in Lyons Colorado Rebuild Lyons One Life at a Time The proceeds will go to families in need who have lost so much and need help now. Follow the link below to see many items graciously donated. All items are marked with a price but, since this is a charity to aid people in need any amount above the appraised value would be gratefully accepted and appreciated. All items are first come first served and are sold as is and shipping and insurance is the responsibility of the buyer. As items are sold, South Creek will then give the full amount to LCF/FR as we have found this is the best and fastest way to help. Bamboo rods, Reels, lines, artwork, and much more are available.
Lyons Colorado Flood Relief
11/21/13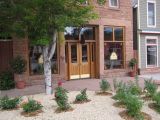 WE'RE BACK !!
Well almost! The good news is we will all be back to work with everything running at full speed on Monday, November 4, 2013. South Creek as well as many other Lyons businesses are open. The public is now able to access the downtown business district. Major recovery operations are ongoing so please be careful and considerate of the construction workers and volunteers. All services offered by South Creek including new custom rod orders, restoration and repair orders, Previously Owned Rods and Reels along with AK Best flies, books and misc. tackle. We look forward to seeing everyone; however we prefer appointments for appraisals and repair evaluations. We have changed our winter hours from by appointment only to 8:30 to 4:30 Monday through Saturday. So we are now open year round. Thanks very much for your support. Mike, Kathy and Scott
10/29/13
Hardy Fly Reel
Very nice Hardy St John in Excellent+ condition. Can be set for left or right hand wind and comes with original Hardy clam shell case. $300.00 plus shipping and insurance. To see more available rods and reels please follow the link Misc.Reels,Tackle and Accessories
8/27/13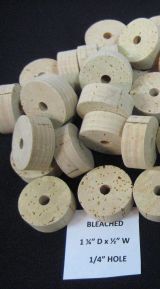 Cork Rings for sale
From the Estate of JA Bradford: 1/2" bleached cork rings.Please open the thumbnail for detailed picture. Sold in lots of 28,$28.00 per lot plus $6.35 Priority mail. Call for shipping rates on multiple lots. Visa, MasterCard, check or money order.
4/17/13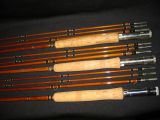 Granger Registered Registry
With the cooperation of many proud owners, I have assembled a detailed list of known Granger and Wright & McGill Registered Models. I am attempting to locate the original surviving serial numbers of the 400 we believe were made. GRANGER REGISTERED REGISTRY
5/11/07